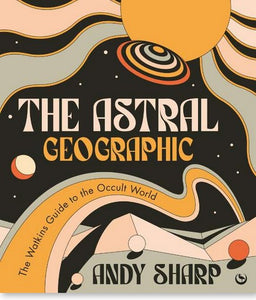 We Are Beachcomber
THE ASTRAL GEOGRAPHIC Andy Sharp
Regular price
Sale price
$26.00
---
THE ASTRAL GEOGRAPHIC Andy Sharp

A history of magic framed as a travel guide featuring 10 magical tours through history and across the globe. Packed with fascinating information and illustrated with Shell guide-style collage artworks, retro-looking postcard imagery and route maps.

This terrific book is a guide to the occult world, featuring 10 itineraries and maps of magical tours across the globe. Spanning countries and continents in pursuit of occult themes, it is meant to be pursued by the astral or armchair traveller rather than on the ground, although we expect readers to be inspired to plan epic trips of their own. It takes a fantastically fresh approach to the occult, with a nod to the retro Shell Guides in the use of collage artwork and humorous, on-point suggestions of places to stay and eat. Expand your occult horizons by trying these tours – and many more!
· Necromancy through the Ages Tour: Travel from Ancient Nineveh to northern England, tracing sites of necromantic practice.
· Crowley & Choronzon Desert Tour: Hike across the Algerian desert in the footsteps of the magicians Aleister Crowley and Victor Neuburg, invoking angels and meeting the terrifying demon Choronzon.
· The Descent & Rise of Witchcraft Tour: Visit the temples of Hekate and Circe in Turkey and Italy, the Spanish sites of the Inquisition's witch-hunts, and the haunts of the Norse sorceresses.
· Curse, Protect and Divine Tour: Travel across Europe to the United States and Kenya unearthing buried curses and counter-magic, from tiny frog coffins in Finnish churches to sinister village hexes.
After completing the journeys, the book offers the unique Geonomicon – a simple divinatory and meditational tool that invites the reader to develop their own creative approach to magical practice.

Size (mm):

178 x 203



Pages : 272